Knee Sleeves, Bands & Wraps
Mild Support
Knee Sleeves, bands or wraps come in varied sizes and can pull over or wrap around your knee. Whether it's a mild knee strain or sprain, swelling, inflammation, soreness or stiffness, they provide warmth, can control patella movement, plus provide compression that increases blood flow to manage swelling and reduce pain.
While they can fit under clothing, knee sleeves and wraps tend to be hot and sweaty, plus can cause chaffing.
Hinged (Soft) Knee Braces
Mild/Moderate Support
Soft-hinged knee braces provide a mild to moderate level of support by combining a hinge support with a knee sleeve or wrap for warmth, compression and patella control. These types of knee braces are common post surgery to keep your knee in proper alignment when bending, which assists with healing and to avoid further injury. A soft knee brace is ideal for returning to light every day movement and recreation, though not recommended for contact or extreme sports.
Functional (Rigid) Knee Braces
Maximum Support
Rigid knee braces provide the highest level of support and protection. They're designed to partially take over the function of your ligaments to correct joint motion and help joint recovery from surgery and inflammation. They're also designed to protect your knee from contact and extreme sports. They can be worn as a preventative measure, though too often are sought out after ligament damage has occurred -post operatively.
Levels of Support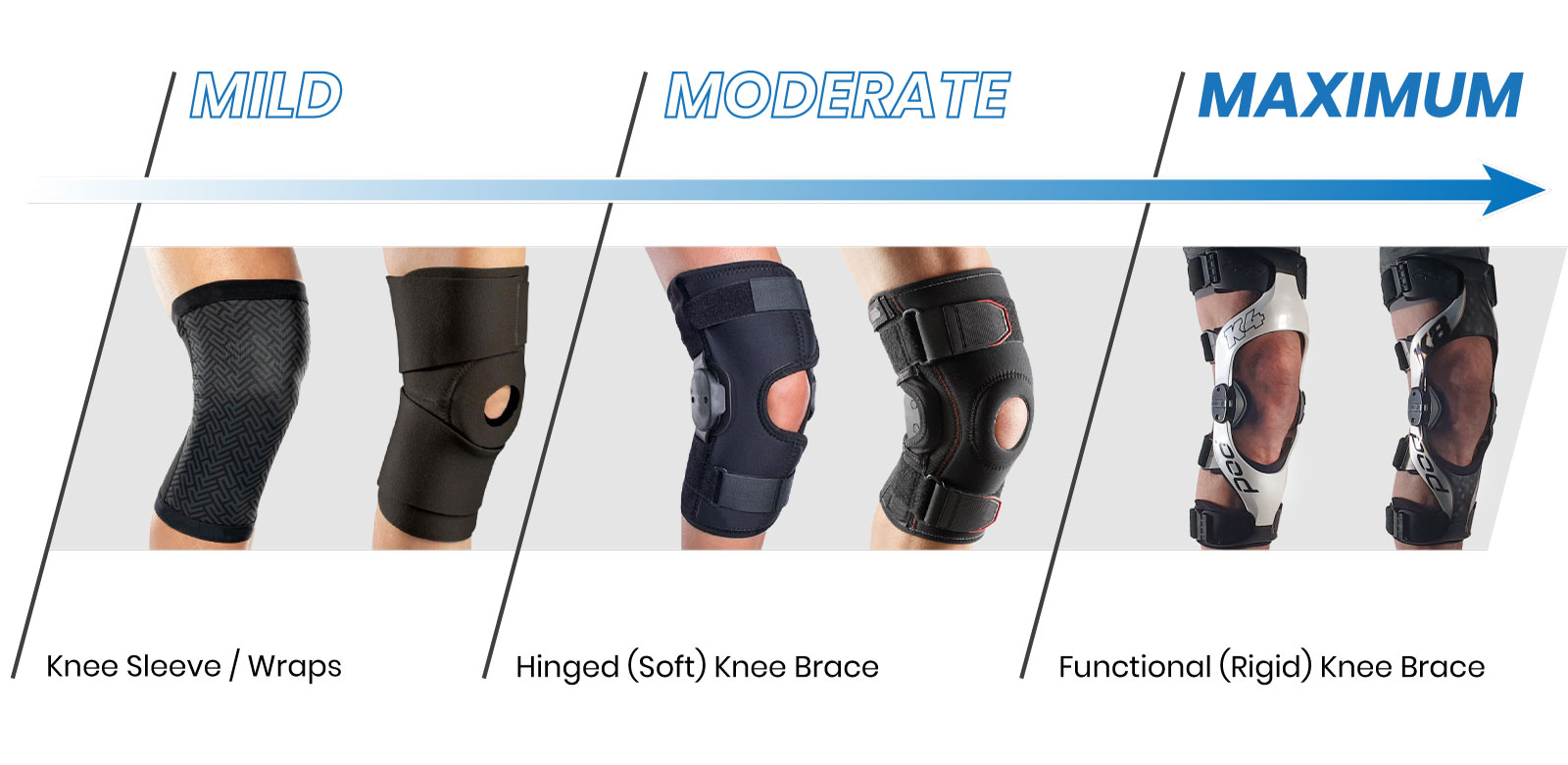 Not all Hinged (Rigid) Knee Braces
are the same
Rigid knee braces evolved from medical treatment and rehabilitation knee braces, which are not designed for sports performance. These braces are expensive, bulky and mechanical as they were designed to restrict movement as people recovered from injury. The metal hinges were not designed for the elements and would break, rust and corrode when exposed to water, sand, dirt, mud etc.

Common Issues
Metal pivots and gears – Rust, corrode & jam in harsh moto environments
Noisy restrictive motion – Impacts performance
Two fixed axis moving in one plane – Feels bulky and mechanical
Limited refurbishment options – Return authority required, no self-service.
A More Human
Solution
Inspired by the human body, POD Active created and patented their Human Motion technology, which uses the power of Synthetic Ligaments engineered from Vectran Fibres (5X Stronger than Steel) to provide progressive, multidirectional motion control.
The lightweight POD Hinge provides a smooth and seamless movement while delivering new levels of comfort, performance and reliability.